Mini-Gallery
Also visit our great second site
Warning: To see more great photos check out our SECOND SITE! Just click the cop lights and go directly there! We had to expand to meet the demand! Hope you enjoy!

Joeman's '69 Camaro SS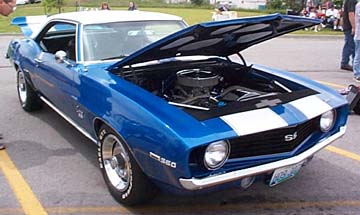 This blue beauty is owned by Joe and Roseann Michael. Joe wanted to save on gas and have a highway cruiser, mostly because he's cheap, but this beast has marked up a few pavements in it's time. It has a little chrome here and there to make it look as good as it sounds. Yep this is no Trailer Queen, but they think of it as a fun luvin' ride and enjoy the head turners as well as showing.
Check out his web site at www.joeman.no-frills.net and then wonder why the state allows this nut behind the wheel.
Ron & Fae's '57 Heaven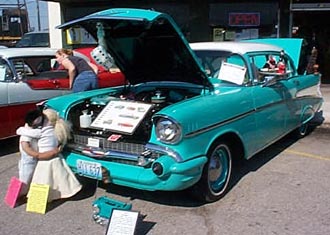 Ron & Fae Moser travel the country side in this slick 1957 Chevrolet. As you can see it's always decked out at the shows with EVERYTHING that was ever the fifties. If you have alot of spare time you can count the number of dice thats on the car! We hear it's in the hundreds!
Joeman's Engine is a real winner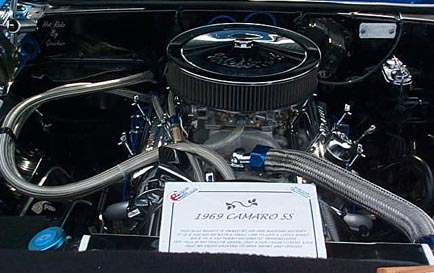 THIS POWERHOUSE IS A 350ci BORED OVER 30 MAKING 300 PONIES WITH A SMALL 3/4 CAM GIVING ALITTLE BOOST BACK TO A 350 TURBO TRANNY. We also understand that Joe is quite popular with most of the speed traps in this area. The Heartbeat Chevy Club would encourge Joe to drive this car as if it were an Escort running on 3 cylinders.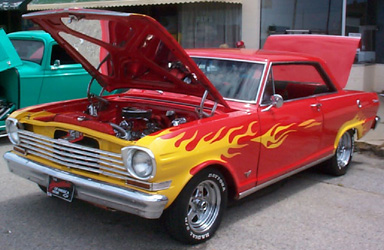 Fireman Jeff is HOT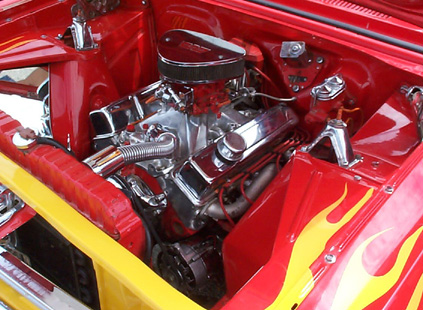 Jeff's 1963 Chevy II....ain't his Granny's car no more. Owned by Jeff Lawless, a fledging Joplin, Mo Firefighter. Notice how it's Fire Engine Red body is accented by bright chrome, mirrors and FLAMES?....yup a big show off. Don't forget to ask him about all of his "hard luck" stories going to the shows with this car.
Sweet Engine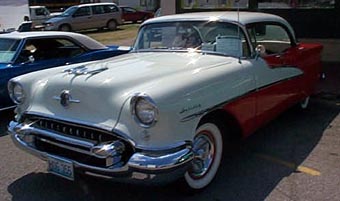 Owner Jeff Lawless says it's a 40 over 350ci with a 292 dur .509 lift cam and about 10:1 compression, has a 350 turbo tran shift kit with 373 rear end gears. Claims it has 524hp @5500 rpm.....MAKE HIM PROVE IT TO YOU.
The Rocket
Little Richard "good-gawd-almighty" Reniker's 1955 Olds Rocket 88 is a rockin'& rollin' fifties fun machine. You can see Richard at the area car shows wearing his wingtip shoes and flat top hairdo all the while singing "In the still of the night".